I configured PHP with font support so that I can finally stop those pesky robots junking my phpBB forums. The standard VC is next to useless as it is very easy to circumvent.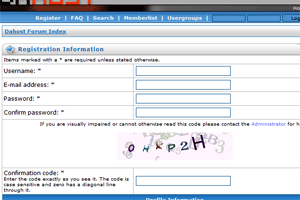 If you want to spend a minute to install this new visual confirmation Better captcha from Paul Soheir, I have compiled a drop-in for all clients running phpBB 2.0.18+.
You can download a drop-in copy of Better captcha from my blog. Just extract to the main forum folder, only line 102 of profile.php has been changed from the original.
Last updated on