I've just finished making some blackberry jelly. I thought I would share the recipe as it worked for well for me.
Boil one chopped sour apple (crab apple or cooking apple) with a dessertspoon of water in a saucepan until it goes into a mush
Add some blackberries and continue to cook until the blackberries are also mushy
Now place the contents of the saucepan into a muslin bag overnight to drain the blackberry juice from the pulp
When the drips have stopped, pour the contents into a measuring jug and add the same amount of preserving sugar to the liquid.
Put a plate in the refrigerator to cool
Bring the mixture to boil in a saucepan and stir for 5 minutes
Test to see if the blackberry jelly will set by smearing a little onto the cold plate with a teaspoon – if it doesn't set, then boil for another minute and repeat
Once you know that the blackberry jelly will set, pour the liquid into a sterilised jar.
Leave the blackberry jelly to set.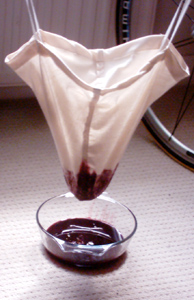 You can sterilise a jar by washing it in a dishwasher or you can pour boiling water in and out, then heat in a hot over for 10 minutes. If you don't sterilise the jar, the jelly is likely to go off quickly.
Last updated on