Leah come to visit for a few days at the start of the week. She seems to like it here as there are lots of shops, everyone seems relaxed and it seems more continental than other places.
On Wednesday we walked along the Palace Pier without going on any of the rides. I don't often go to the pier as it is really tacky and there's always bad music playing on the loud speakers and, above all, there are loads of tourists around.
Leah suggested that I become a Maths teacher because I like showing people what to do (in a good way). I mulled it over and couldn't find too much wrong with the idea, so I may pursue the idea further this year.
Later in the afternoon we had a look around the inside of the Pavilion. Leah successfully attracted the attention of a Spanish member of staff who knew of the Pavilion's history and details about the people who lived there, namely King George IV (Prince Regent for most of his reign). He also pointed out a few Freemason's logos dotted around the walls of the banquet hall, saying that the royalty used mostly Freemason architects and labourers to build the Pavilion.
By the end of our walk through the Pavilion we had found out much about the decadence of the Prince Regent and about life at the time in Brighton as it was becoming popular with visitors from London.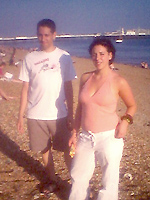 After a spot of shopping for Will, Leah and I went to see "Fantastic Four" for £4.50 at the Odeon. It wasn't a great film, it had too many annoying "scientific" explanations to explain a rediculous series of events.
That evening Lydia joined us for a meal at a cheap Italian restaurant in Ship Street. I can't remember the name, as there are so many that start with the letter "p".
Last updated on