At midnight I launched the all new Workers Revolutionary Party website, loosely based on PHP-Nuke. The owners of the website have been studiously posting news items since May meaning that there is now a sizable archive in place.

The people who work on the News Line have been very patient in the development of this site and pleasant on all aspects of design and technical issues. Sometimes they are almost apologetic on how long it has taken for them to get adapted to the new system. It is certainly a good experience to have such nice clients; they really have been a pleasure to work with.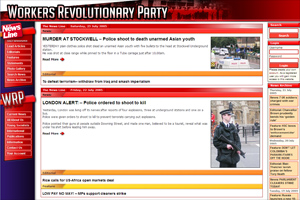 The PHP-Nuke used as the CMS had to be heavily edited to remove quite a few bugs in the news handling. There is a photo upload and auto-thumbnail facility (something that the Nuke community fail to offer) and a large number of simplifications to remove the nonsense "stats" from the site. Daily news is grouped together and sorted by the category ID rather than the story number.
I believe that there is a lot of potential with their new CMS website. I do not have the same views as theirs, nevertheless, please have a look for yourself.
Last updated on