I knew that I wouldn't have time to create a new entry here on Monday. Anyway, at least I have started on my photo gallery which now has 33 edited photos taken on my phone and using Lydia's digital camera (both have their problems).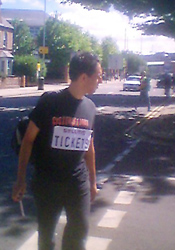 This photo shows me trying to sell my extra tickets. Unfortunately, I didn't sell them for much more than I brought them for and it kept me out at the festival for a good hour. In the meantime, the heat got to Lydia and she became more miserable just as we arrived in the festival area.
I'll write some more here shortly, but are now I have to start work on this month's Kehillat Kernow newsletter.
Last updated on