We had our very first Samurai Sudoku published in The Times this Saturday. It will be the first of many of our Sudoku related puzzles that appear in The Times and Sunday Times.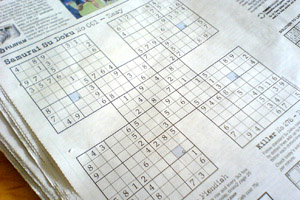 Some of the new features in these puzzles include: the requirement to solve the puzzle as a whole (previously, this was rarely the case) and the letters: A, B, C, D are now the last possible squares to be solved in each of the 4 outside grids. The guide to the solving time now represents the likely time of the average player (not just a complete guess like before) and there are finally some ratings present.
Stylistically, there are colours to identify the four squares and the solutions will have the given values highlighted to make it easier to read.
We will feature regularly in the Times on Saturday in the Books section, so please have a go at our puzzles!
Last updated on