Lydia and I have had our first Times Sudoku books published!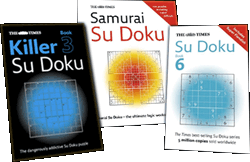 However, someone forgot to inform me that our Sudoku books are available to buy in book shops… We only found out when checking for our Samurai Sudoku book in Sussex Stationers and finding the Times Sudoku 6 on the shelves.
Some recent changes to the Sudoku Solver website include a competition to win a poster each week and on the Sudoku Feed website, we have launch a demo version of the feed for webmasters to try without spending money.
You can buy a copy of these books from our Sudoku website.
Last updated on