Our first batch of Sudoku puzzles will be arriving in The Times on Monday, 13th November.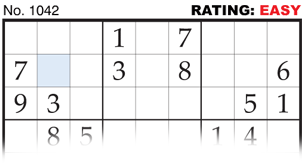 In addition to the 4 ratings: Easy, Mild, Difficult and Fiendish, we are introducing a new very hard level: Super Fiendish. These puzzles will always require a solving technique such as triples, x-wing or swordfish. If there is a demand, we can make this rating harder by introducing other solving techniques in the new year.
All ratings will have a better consistency with quite distinct difficulties. Now, the Difficult rating will kept on the rails without occasionally being too easy or too hard for the majority of players. The Fiendish category will remain a challenge to most Sudoku players with exposed and hidden pairs to discover in many puzzles.
On the online version, there will be no more gaps in the interactive Flash game. All the game data will be available to make this much more reliable for anyone who chooses to solve puzzles on the website.
There are a number of other additions to the paper and website, but I'll let you discover these for yourselves on the 13th.
If you have any public comments, please add them here or contact us at Sudoku Solver.
Last updated on