After many Lydia-hours of programming the new Sudoku generators, new features and hours of testing – the new Sudoku websites are ready to go!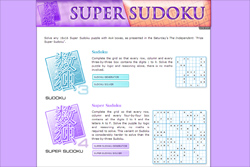 Some of the features include: "Email to a friend", or to yourself with the solution attached, a much improved Super Sudoku generator that is around 7 times faster than before (mainly due to a much faster server), member's control panel and statistics. There are a large number of other subtle improvements such as new Sudoku generator algorithms that should spice up some people's boring afternoon somewhere.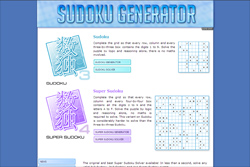 We have also put inplace more facilities to allow people to subscribe to Sudoku on their own websites or collect Sudoku for publication in newspapers and magazines.
Last updated on